Brass padlocks are completely rust-free
Brass has been the standard material for padlocks in Europe for many years. Therefore, ABUS offers brass padlocks in numerous sizes and variations. Brass padlocks are being used a lot in everyday life. The material itself offers a very good level of corrosion resistance which can be further improved by coating the lock or by adding plastic covers. Our brass padlock range includes many different sizes, shapes, shackles, and other additions. Therefore, you are very likely to find exactly what you are looking for in a solid padlock.
Padlock brass 85/50
85/20 — 85/40: To secure valuables/goods of medium value or at an average risk of theft
85/50 — 85/70: To secure valuables/goods of greater value or at a high risk of theft
85IB: Ideal for use in coastal and port areas
To secure bags, suitcases, jewellery boxes, cash boxes, doors, gates, cupboards, lockers, tool boxes, cellar windows, sheds, switchboards, etc.
Technology:
Lock body made from solid brass
Inner components made from rust-free high quality materials
Double bolted (as of 1 3⁄16")
Hardened shackle, stainless steel shackle (IB), brass shackle (MB), long shackle (HB)
Precision pin cylinder with mushroom pins
Paracentric keyway for increased protection against manipulation
Can be made keyed alike to already existing keys/locks by the trade (Version Service)
Automatic locking: Locking without key by pushing down the shackle
Variants:
Sizes: 25⁄32", 63⁄64", 1 3⁄16", 1 37⁄64", 1 31⁄32", 2 23⁄64", 2 3/4"
Stainless Steel Shackle (IB): 1 3⁄16", 1 37⁄64", 1 31⁄32", 2 23⁄64"
Additional Shackle Lengths: 7/8", 15/16", 1 9/16", 2 35/64", 2 1/2", 3 5/32", 5", 7 7/8"
Specifications
Level

7

Depth e

45/64 inch

Height f

3 1/32 inch

Horizontal clearance b

1 7/64 inch

No. of keys supplied

2 keys incl

Packaging

individual box

Schließung

keyed different

Shackle diameter d

5/16 inch

Vertical clearance c

1 1/8 inch

Weight [lbs]

0.60 lbs

Width a

1 31/32 inch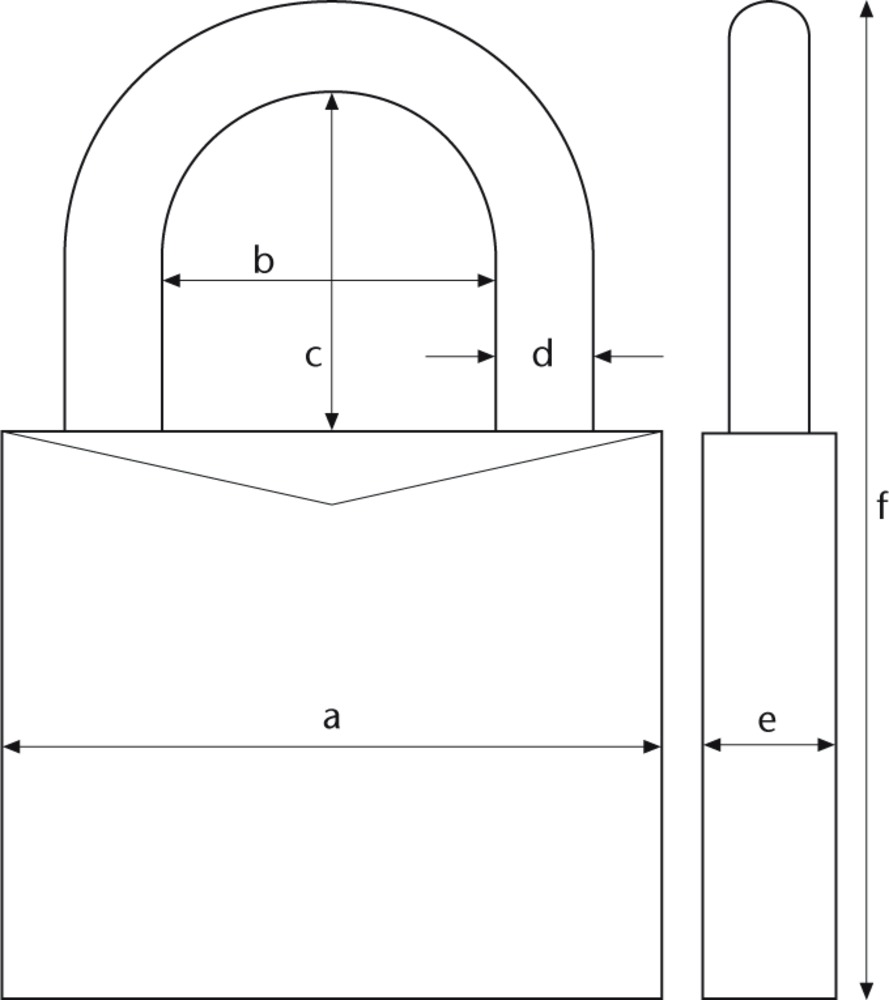 Download