Kwikset SmartKey Cylinder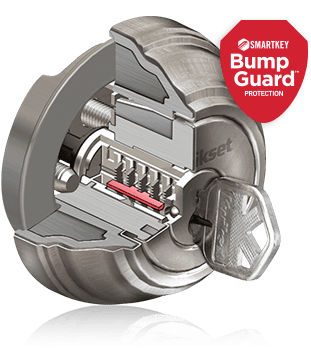 With Kwikset SmartKey you never have to worry about an intruder finding lost or stolen keys again. Utilizing SmartKey technology, you can easily and quickly re-key your locks in three easy steps. Simply insert the functioning key and turn ¼ clockwise, then insert the SmartKey learn tool and remove the functioning key. Finally, insert your new key and ½ turn it counter clockwise and just like that your security is reset. Kwikset prides themselves on creating ANSI Graded bump guard protected high security door hardware you can trust to be drill and pick resistant. Re-key your SmartKey locks as frequently as you wish while maintaining the highest level of security. Choose from our variety of knobs, levers, deadbolts, handlesets, and electronic locks to upgrade your safety and your home.
SmartKey™ provides security that is resistant against torque attacks, passes the most stringent lock picking standard UL 437, par 11.6. and utilizes BumpGuard™ to prevent lock bumping.
Features of the SmartKey
Bump proof and superior pick resistance
Secure your home in seconds – SmartKey allows you to re-key your lock in seconds, rendering lost or unreturned keys useless.
Advanced protection from kick attacks
Highest professional security ANSI/BHMA certified Grade 1
Reasons you will want to re-key
Lost, stolen or unreturned keys
Recently moved
Increase your home's security
One-key convenience for all Kwikset locks
Remodeling, upgrading or updating
Reasons SmartKey is Superior
Drill Resistance

The lock cylinder uses two steel balls inserted into the front of the key face to resist attack from drilling.

ANSI Grading

SmartKey is available in an ANSI Grade 1 deadbolt - certified the highest level of residential security.

BumpGuard™

Patented side locking bar technology offers improved protection against lock bumping, an attack technique used to defeat conventional pin tumbler locks.

Superior Pick-Resistance

SmartKey locks have passed the most stringent lock-picking standard, UL 437, par. 11.6.
How the Kwikset SmartKey Works
You will need to have your Functioning Key and Learn Tool for this to work.
Functioning Key

SmartKey Learn Tool

New Key
Insert the

functioning key

& make a 1/4 turn clockwise.

Insert & remove the SmartKey

learn tool

, Then remove the

functioning key

.

Insert the

new key

& turn 1/2 turn counter-clockwise. Done. Your lock is now re-keyed!
Kwikset SmartKey Resources
Reset Cradle
SmartKey Troubleshooting